We are a small, friendly Reform congregation located in Des Moines, Washington,
between Seattle and Tacoma.
We serve the Jewish Community of South King and North Pierce Counties.

May 6th – 6pm – Potluck Dinner and Slide Show – Jewish Africa
Mysterious, Exuberant, Ancient, Delicious – the story of Jewish Africa will change
how you see yourself and the chosen people.  Join us on a journey through space and time,
from the Kingdom of King Solomon to the mountains and rainforests of Uganda.
From Jewish cave dwellers to Nigerian Cohanim.
Discover the resurgence of Judaism in the birthplace of humanity.
May 2oth – 6pm Shavuot – Vince's Italian Restaurant, 32411 Pacific Highway South, Federal Way.
Join us for an evening of Learning and Fabulous Food.  Why do we eat dairy on Shavuot?
Is Mount Sinai really the Mountain of Cheese?  Come and find out.
May 26th – 6pm – The First Annual Bet Chaverim Priceless Auction!
Enjoy an incredible night of excellent entertainment, fabulous food and fantastic friends.
Incredible items to be auctioned away include a gourmet Tuscan dinner cooking class,
piano lessons, jam making classes, museum tours, a pizza party (with a real wood fired pizza oven) and more!
Join us for a wonderful philanthropic event that is sure to make you feel good.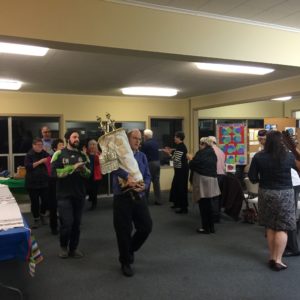 Simchat Torah Celebration
Bet Chaverim: Community Synagogue of South King County (CSSKC) 
We started off as "Community Synagogue Of South King County, CSSKC.
During a Sunday school session, a more traditional name was nominated.
Since our founding in 1989, Bet Chaverim has been an inclusive community, welcoming a diverse membership.
We are made up of a range of ages, singles, married couples, and families.  We are proud of our interfaith couples.
Although members generally live in South King and North Pierce Counties, others come from further away,
drawn by the quality of the services, the education we provide for children and adults, as well as the numerous social and cultural activities.
Our goal is to continue to build a Jewish community based on inclusiveness, and reflecting the congregation's belief in cooperation and mutual support.
We welcome and invite you.
---
Passover at Bet Chaverim