We are a small, friendly Reform congregation located in Des Moines, Washington,
between Seattle and Tacoma.
We serve the Jewish Community of South King and North Pierce Counties.

Special Events:>

General Meeting June 24 at 5 pm.  Election and review of budget

On Saturday, July 7th at 7 P.M., Eytan Olivier will be giving a lecture on the
African refugee situation in Israel.
Eytan lived in Israel for 22 years after having escaped from the Belgium Congo.
While living in Israel, he worked with African refugees.
Come hear his story.
On Sunday, July 15th we will have our annual summer picnic at Donna Mullin's clubhouse,
11:30 — 2 P.M. — 1000 S. 248th St., Des Moines, 98198.
Hot dogs, hamburgers and hot fudge sundaes will be provided — please bring a salad.
There will be games and swimming.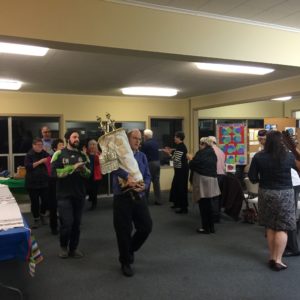 Simchat Torah Celebration
Bet Chaverim: Community Synagogue of South King County (CSSKC) 
We started off as "Community Synagogue Of South King County, CSSKC.
During a Sunday school session, a more traditional name was nominated.
Since our founding in 1989, Bet Chaverim has been an inclusive community, welcoming a diverse membership.
We are made up of a range of ages, singles, married couples, and families.  We are proud of our interfaith couples.
Although members generally live in South King and North Pierce Counties, others come from further away,
drawn by the quality of the services, the education we provide for children and adults, as well as the numerous social and cultural activities.
Our goal is to continue to build a Jewish community based on inclusiveness, and reflecting the congregation's belief in cooperation and mutual support.
We welcome and invite you.
---
Passover at Bet Chaverim