Dues can be paid using ZELLE, which is available on many Banks and Credit unions.
This is an elecronic transfer.  Payment are sent to EMAIL:
Donation Options:  Dave outlined several new donation and dues payment options.  One option is to pay through Zelle and send it to
betchaverimtreasurer@outlook.com.
==>  Please indicate in the memo box what the payment is for.  <==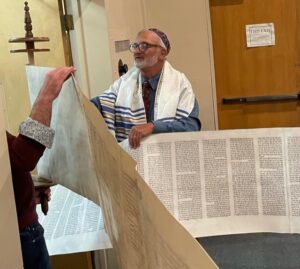 Dues have bveen revised.   Working on new form and fees.
membership application for you to print and return to board or mail to listed address.
If you have questions please call 206-577-0403 or send email to BetChaverimInfo@gmail.com.
At Bet Chaverim, we not only learn the religious, historical and cultural traditions and language of our people, but we also come together to fill our lives with meaning so that each one of us can impact our world for the better.
Our membership is diverse in age, personal characteristics and religious background, but like an extended family that has many interests.
Because our congregation is small, every member is important and has the opportunity to make a difference.  In turn, we aim to serve the members' needs and requests.  
Bet Chaverim continues to be a warm and inviting place for members and visitors and invites you to worship, study and celebrate with us and to consider membership.
Temple welcomes all who wish to join our community regardless of their financial capability.
BCrevisedby-laws2019  Down load to your computer