=============================================>
A life steeped in music and social justice
Rabbi James Mirel
Born 1947, Long Island, N.Y.; arrived in Washington, 1974
Rabbi Jim Mirel and his wife Julie knew, as they crossed over Snoqualmie Pass that first time on their way to Temple De Hirsch Sinai, that they would love the state of Washington and all of the challenges of keeping Judaism alive with the relatively small Reform Jewish community in Seattle.
More than 40 years later, they are still here.
This wasn't Rabbi Mirel's first visit to Seattle. He had left Long Island at the age of 18 to attend Reed College in Oregon, so the Northwest wasn't new to him. One of the draws to Temple De Hirsch Sinai was its organ and rich musical history initiated by the late Samuel Goldfarb. As an accomplished musician, Jim has performed countless times in several klezmer bands and helped to found "Music of Remembrance," an organization that commemorates victims of the Holocaust through recovered and commissioned musical performances.
Julie, a musical force in her own right, is a trained opera singer whose own contributions include the re-energizing of klezmer music in Seattle.
In 1985, Rabbi Mirel accepted the position of senior rabbi at Temple B'nai Torah on Mercer Island, where he served until his retirement in 2014. Under his leadership, B'nai Torah constructed a new building on the campus of the site of the Jewish Day School in Bellevue.
He has, in addition, long been a tireless advocate for oppressed and marginalized people in the community—at the forefront of gay rights, interfaith dialogue, and fighting Islamophobia. He has played a leading role in Mazon, a national organization that fights hunger, and also hosted Tent City, an encampment of homeless people that resided multiple times on the Temple B'nai Torah campus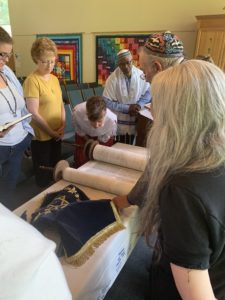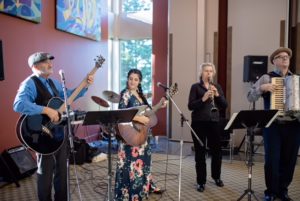 The Band playing.
Rabbi Mirel joined Bet Chaverim in August 2019.
Extracted from this article
https://discover.stqry.com/v/passport-to-washington/s/766c56bc-0b59-4852-aa9d-795df11e459b