From Our Sisterhood: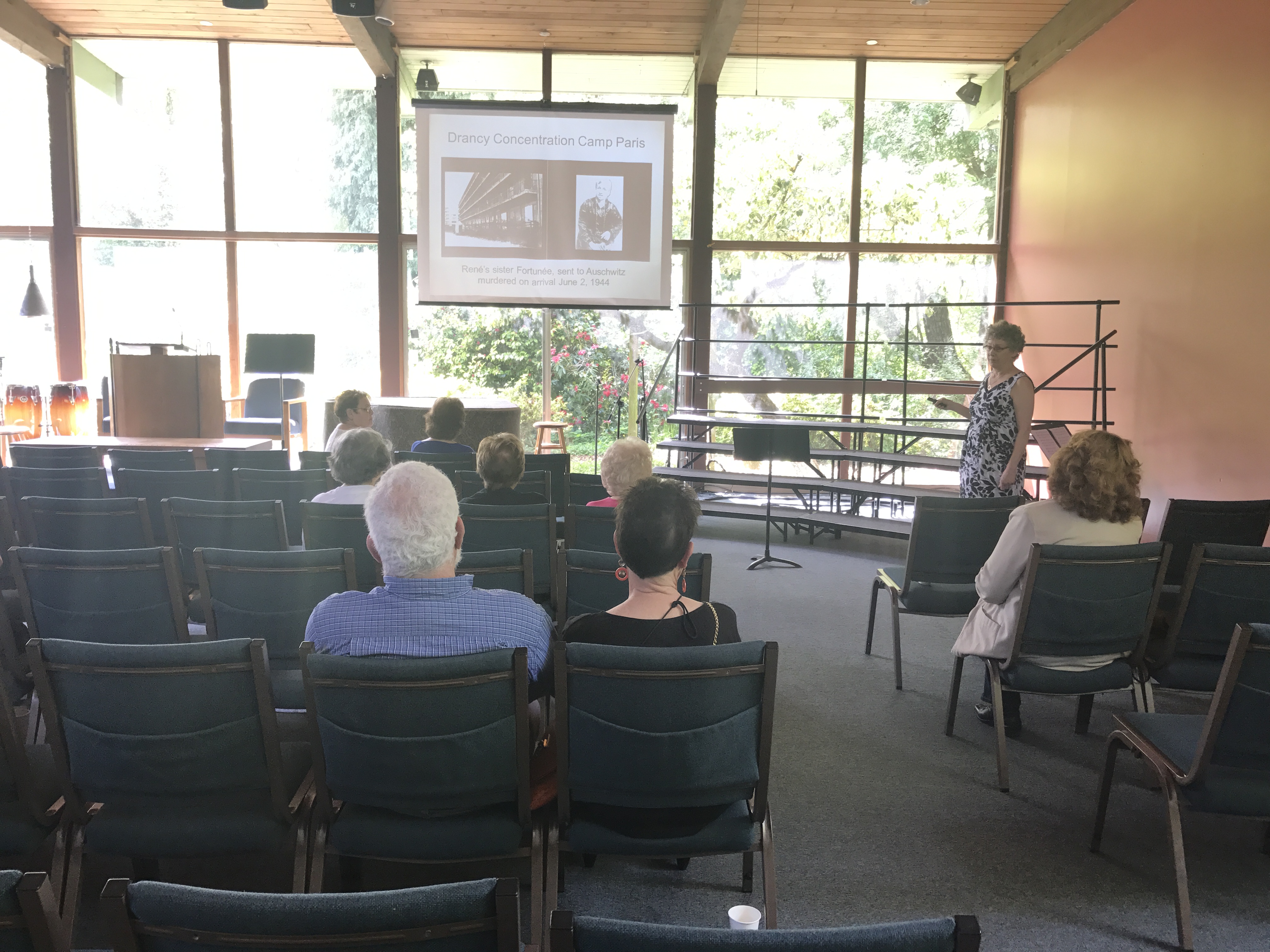 May 21, 2017
Books and Bagels 1:30-3:30 at Bet Chaverim
Marie-Anne will be making a presentation on Leaves of Night,
a memoir by Claude Zenatti. Copies of the book will be available for purchase.
=====================================
Women of Reform Judaism
By Sandy Gatlin
I have been writing explanations about the Y.E.S. (Youth, Education, and Special Projects) Fund that is an on-going project through Women of Reform Judaism. Just to recap, the Youth, Education, and Special Projects (YES) Fund represents the collective financial efforts of individual donors and WRJ-affiliated sisterhoods to grow our Reform institutions, fund clergy education, and inspire our youth.
Again, let me say that the Y.E.S. Fund was formally established1955, the tzedakah roots of WRJ date back to its founding in 1913 when it began sponsoring rabbinic scholarships. Since then, the YES Fund has raised millions of dollars through campaigns and product sales for numerous projects including: building the dormitory at Hebrew Union College-Jewish Institute of Religion (HUC-JIR) in Cincinnati and the former Union for Reform Judaism (URJ) headquarters in New York City, establishing the Jewish Braille Institute (now JBI International), founding NFTY (North American Federation of Temple Youth), and helping to create the first URJ camp.
In the last newsletter I focused on the "Y" for Youth, here I will focus on the "E" for Education.
Most importantly, in my opinion, are the scholarships that are given to all the students attending all HUC-JIR campuses. At a recent dinner in New York honoring scholarship students, in her welcoming remarks, the Dean of Hebrew Union College-Jewish Institute of Religion, Rabbi Shirley Idelson recognized WRJ as the longest sponsor of scholarships for the school. WRJ has supported student scholarships since our inception in 1913. All of Bet Chaverim's Rabbis have been recipients to these scholarships!
For 2016-17, $92,500 will be funded to the HUC-JIR to be dispersed for Student Scholarships, The Israeli Rabbinical Program in Jerusalem, and the Debbie Friedman School of Sacred Music cantorial student prize.
Just think about it – our Bet Chaverim Sisterhood, sisterhoods all over, individual women and congregations from near and far, donate to this fund in many ways. We benefit from it by the wonderful Rabbis we have had, and the world benefits from it as well.
The WRJ/Pacific District will hold its 53rd Biennial Convention this year in Las Vegas, Nevada, November 3-6 where you can certainly learn all about the Y. E. S. Fund and so much more about Women of Reform Judaism, our Pacific District. Special Guests are Rabbi Joe Black and WRJ President Blair Marks. The line-up of workshops and programming looks fabulous. For more information visit www.wrjpacifc.org
I'll be there, how about you!? There is nothing more spiritual and empowering than spending Shabbat services with about 200 women, listening to their voices in song and prayer. Just ask anyone who has been there….
===========================
Previous Articles:
The Sisterhood board met July 13. Attending were Peggy Kornberg, acting President; Judith Schainen, Treasurer and Liaison to the Bet Chaverim board; Robyn Alpert, Secretary and Program Chairperson; and Donna Mullins, Member at large.
Call to order was at 6:04 by Peggy who stated the meeting would be informal and focused on the July31st picnic.
Treasurer Report: Was previously emailed to all and reviewed.
Judith reported: BECU Savings: $ 275.10 and BECU Checking: 1227.63
Total Assets: $ 1502.73
Sunshine Card Fund:$32.00 ….contributions made by Carol and Judy
Transfer of $73.00 from savings account to checking account as requested by outgoing Treasurer.
Payment for the 10 sets of High Holiday Prayer Books has been completed ($475.76)
Zachary Cohen sent a note to the Sisterhood thanking us for the Kiddush Cup that we presented to him for his Bar Mitzvah.
Picnic Discussion – Books and Burgers
The hours of the picnic will be 12:00 to 2:00 pm.
The location is Dash Point State Park in area S-2 which includes a shelter and in close proximity to the restrooms.

A notice was sent on Thursday morning for pertinent information-(ie) cost, supplies, directions and parking options.
Activities will include books (talking about, bringing to exchange/give away) and any sports and water things attendees want to do.
Peggy has requested additional volunteers to assist in set up at 11:30. Robyn and Sherwin will be there at that time.
The meeting concluded at 6:55 p.m. Our next board meeting is currently planned for Wednesday, August 10th at 6:00pm at the Unitarian Church office.
Robyn Alpert-Secretary
The Sisterhood Board met April 13 with Peggy Kornberg presiding as acting president.
For opening thought, Peggy gave a short story about a man with a wife and 6 children who went to
the Rabbi to ask for advice because there was little room in the house and squabbles arose. The
Rabbi's advice? The important thing in life is to be content with what we have.
In advance of the meeting, Treasurer Marie-Anne Harkness had submitted her report as well as a
proposed budget for the upcoming fiscal year along with several recommendations.
Vickie Burns, Membership Chair, reported that there are now 17 Sisterhood members.
Program Chairperson Robyn Alpert said that April 11's Happy Hour get together at Mama Stortini's
at Kent Station went well. At total of eight women enjoyed the restaurant's happy hour food and
drinks as well as the group's lively conversation.
Under new business, a slate of potential sisterhood 2016-2017 officers was discussed. Elections will
be held at the upcoming Sisterhood Luncheon.
Also, Monica Kaplan suggested that the Board consider having an information table at some of the
areas Farmer's Markets. This will be pursued further at the next meeting.
SAVE THE DATE: Sisterhood Luncheon – May 15 11 am – 1 pm. At the home of Marie-Anne
Harkness. All current sisterhood members as well as any women interested in joining are
encouraged to attend. Vickie will send out invitations to this annual potluck event.
— -By Nancy Blase (based on minutes by Judy Schainen)
Women of Reform Judaism
The Opportunity to Know More
By Sandy Gatlin
Through the many years of my involvement with WRJ, the one thing that I have enjoyed the most is the opportunities it has always offered to me to learn and grow on all levels of my being a Jewish woman.
This year there are several dates that come to mind where you can have the opportunity to do just that, both locally and if you are traveling. Of course, coming to any of our own sisterhood events give you this, something for everyone opportunity. I recently attended the movie night which was wonderful, Marie-anne just sent an email with a great learning tool for Purim, or even just spending time with sisterhood women at a luncheon – something new, something interesting, something from your past, something stimulating enters your world. It's fascinating to be a Jewish woman today.
Here are some really great dates to put on your calendar and try to be there!
June 26, 2016 Pacific Northwest Area Day
Area Day is your chance to meet with other women in your area. You will have an opportunity to share your ideas and learn from other women in your region. You will learn about new and exciting information from the Women of Reform Judaism and our Pacific District. This is your chance for growth and friendship, fun and learning, and renewed commitment.
Southern California – July 10th
Northern Califnoria – July 24th
WRJ Pacific District 2016 Convention – November 3-6, 2016, Las Vegas, NV
Rabbi Joe Black and Blair Marksas our special guests!
We are delighted to announce that Rabbi Joe Black will be our Scholar & Musician-in-Residence at the WRJ Pacific District Convention in Las Vegas! So mark your calendars for Thursday, November 3, 2016, 7pm – Sunday, November 6, 2016, 1 pm – you won't want to miss this special weekend!
​
Rabbi Black's rabbinate is characterized by his passion for creating and celebrating sacred community. He strives to help others find God's presence, not only in prayer and study, but in every interaction of daily life. Rabbi Black is considered a rising star in our Movement for his spiritual approach and is a nationally recognized musician and author.
Blair Marks was elected WRJ President in December 2013. She previously served as WRJ Vice President, WRJ Treasurer, the first WRJ Audit Committee Chair, and WRJ Budget Committee Chair. She has developed and delivered specialized YES Fund training for the WRJ board and "WRJ 101" training for WRJ District leaders.

Blair became involved with sisterhood in the early 1990s while at member of Kahal Kadosh Beth Elohim in Charleston, SC. Currently she is active in the Temple Kol Emeth Sisterhood in Marietta, GA where she is a Board Trustee. She is a Ramblin' Reck from Georgia Tech (yes, she's an engineer!) and holds master's degrees from the University of Michigan and Georgia State University.
The Sisterhood Board met February 10 with Peggy Kornberg presiding as acting president.
For opening thought, Peggy told a story about a father and his 24 year old son who were traveling on
a train together. The son remarked about the clouds, and trees and telephone posts as though he were
a young child. The other passengers thought this was odd. It came to light that this son had been
blind, but had just successfully completed a surgery that restored his vision.
The take home message is that things are not always the way they first appear.
Treasurer Marie-Anne Harkness and Membership Chair Vickie Burns gave their respective reports,
Sandy Gatlin discussed displaying her jewelry Feb. 13.
Christina Sher will be Sisterhood's point contact person with Women for Reform Judaism.
Some Feedback from the Movie Night event Saturday March 13.
Movie Night featuring popcorn and soda pop went quite well!
People really liked the time to socialize before the movie.
Sandy Gatlin's beautiful jewelry display added nicely to the evening.
A beautiful Havdalah was led by Rabbi Emily.
The movie, DeliMan, was interesting and entertaining.
A fun pre-Valentine evening!
Future Event open to Bet Chaverim members and supporters
Sat. Mar. 5 After the Torah Service and Oneg.
Peggy and Jack Kornberg will present their talk Abu Dhabi
based on when they lived and worked there a few years ago.
SAVE THE DATE: Sisterhood Luncheon
– May 15 at the home of Marie-Anne.
—By Nancy Blase (based on minutes by Judy Schainen)
————————————-
Did you know this about Women of Reform Judaism
By Sandy Gatlin
Since 1913, the WRJ leaders have carved out a place for women in Reform Jewish life, beginning at a time when women could not serve as rabbis or on congregational boards. WRJ's influential, hard-working, and successful leadership team includes the Board of Directors, which includes the Executive Committee, and District Presidents, as well as an active Board Alumni (The Chai Society).
When I became a sisterhood member over 35 years ago, WRJ was only in the US and Canada. Today, WRJ has global affiliates in South America (Argentina and Brazil), South Africa, and Israel.
Through WRJ, Reform women have created a unique and vibrant role for women in congregational life and helped women find their spiritual voice. To foster women's Jewish growth, WRJ brings new program ideas to women's groups, creates resources to introduce women's rituals and enhance Jewish Celebrations, and more.
There are many ways to tap into these ideas and resources. Our sisterhood and congregation has wonderful past presidents and officers (our Chai Society if you will) who served on the Pacific District level and International of WRJ; we have a District Area Director for help, advise, and leadership; in June there is an Area Day for all the Pacific Northwest Sisterhoods to gather together; in November the District convention will be held in Las Vegas; and for everyday – for loads of fabulous information there are two great websites… wrj.org and our district website wrjpacific.org
Can you imagine, 1913… On January 21, 1913, 156 delegates representing 52 congregational women's groups met in Cincinnati, OH to organize the National Federation of Temple Sisterhoods (NFTS, now WRJ). Advocacy was a large part of NFTS's philosophy from its inception. The women were in the forefront of social action and change back then! They embraced relief efforts during World War I, brought German rabbinical students to study in the U.S. after Hitler shut down Jewish academies of learning, participated in the formation of the United Nations, spoke out for women's rights, and more. (I have a picture of my maternal grandmother at a NFTS luncheon)

1913 – That was seven years before American women won the right to vote on August 26, 1920
The Sisterhood Board met January 13 with Peggy Kornberg presiding as acting president.
For opening thoughts, Peggy related news of celebrating the birth of a new baby in her family.
After an untimely death of the son of a friend, her message to remember was that we should live our lives to the fullest and in the moment because never know what life holds ahead.
Treasurer Marie-Anne Harkness reported that a check was sent to Grechen Schmidt for precut letters to be used on the quilt for Rabbi Emily Meyers' new baby, Leah Evelyn.
Marie-Anne presented Vickie Burns with two lists related to Sisterhood Programs.
In turn, Vickie, as Membership Chair had three membership related proposals for discussion.
Sisterhood events open to Bet Chaverim members and supporters
Past Event: Sat., Dec. 12 1:00 – 3:00 pm Chanukah Party featured potato latkes, finger foods and chocolate coins went quite well.
Sat., Feb. 13 6:00 -9:00 Movie night Refreshments will be popcorn and soda pop.
The movie is DeliMan which has had very good reviews.
Sat. Mar. 5 After the Torah Service and Oneg. Peggy and Jack Kornberg will present their talk on Abu Dhabi.
Please mark your calendars for those February and March Events!
Chocolate Seder tentative plans continued. Further information will be sent out.
Sisterhood Luncheon – May 15 was proposed by Marie-Anne.
—By Nancy Blase (based on minutes by Judy Schainen)
Sisterhood hosted a fun Hanukkah Party complete with
menorahs burning bright, dreidels to play with and lots of latkes to eat.
We played some board games, did some shopping at our Judaica table, and sang holiday songs.
A special thank you to Robyn Alpert assisted by Melissa Brooks for organizing all aspects of the program. It was a pleasure to welcome our guests the Sproeger family and Gale Gauf. Thank you to all who came and made the party a great success.
Mark your calendars for more Sisterhood programming coming soon:
Peggy and Jack Kornberg will give an illustrated talk about their experiences in Abu Dhabi on Jan. 16th starting at 4pm.
( March 5 after Torah Service)
The ever popular Movie Night fundraiser will be the night before Valentine's Day, Feb. 13 starting at 6pm.
Deli Man is a docu-comedy with a love story twist featuring cameos of comedians Larry King, Jerry Stiller, Freddie Roman and Fyvush Finkel (I kid you not!).
Chocolate Seder at the Kornberg's is fast becoming an annual tradition.
This year it will be Friday, April 29. More details coming in next month's bulletin.
Did you know that Robyn Alpert is running a thriving Judaica Shop to raise funds for Sisterhood and provide a service to the community?
She has Kosher aprons ($20), Schlepp bags ($15), beautiful WRJ YES Fund card sets ($7.50), and just a very few of the original Sisterhood cookbooks for sale.
Sandy Gatlin will be selling her amazing Mah Jongg jewelry at Movie Night and donating a generous percentage to the Judaica Shop.
Thank you to our customers who snapped up card sets at November's Books and Bagels.
Remember to invite your family, friends and neighbors to any of our events. Guests always welcome.
Marie-Anne Harkness
The Sisterhood Board met November 11. Peggy Kornberg presided as acting president.
At this time, she and Judy Schainen are alternating the roles of secretary and president.
For fundraising, sets of note cards have sold and will be for sale. As part of her membership report,
Vicki Burns noted that she'll be contacting some people about participating in upcoming activities. She also encourages the use of Sunshine cards.
Please mark your calendars for these upcoming events:
Sat., Dec. 12 1- 3:00pm Hanukkah Party featuring potato latkes, finger foods and chocolate coins. RSVP's should go to Robyn Alpert.
Sat., Jan. 16 at 4:00pm Peggy and Jack Kornberg will present a talk on their trip and stay in Abu Dabi.
Sat., Feb. 13 5:30-9:00pm Movie night — including potluck dinner.
And further in the future, a Chocolate Seder on Friday April 29. Details to follow.
Nancy Blase (based on minutes by Judy Schainen)
Women of Reform Judaism – Did you know? Sandy Gatlin
"Consider three things, and you will not come to sin: Know what is above you, a seeing eye, a hearing ear, and all of your deeds written down in a book."
—Pirkei Avot 2:1
Given the prevalence and clear dangers of distracted driving, Women of Reform Judaism calls upon its sisterhoods to:
Have members pledge not to text or use a hand-held cell phone while driving, and to limit hands-free phone conversations only to instances of absolute necessity.

Launch a congregation-wide campaign to have others—including adults, teens, and soon-to-be drivers—take the pledge.

Educate members about the dangers of distracted driving through programming and partnerships with others in the synagogue and community, and encourage them to lead by example by committing not to use cell phones while driving.

Partner with their synagogue's religious school and youth group, or with other community groups that reach young people, to educate students about the dangers of distracted driving.
Urge the passage of legislation to promote safe driving, including but not limited to reasonable, enforcement laws and other policies to deter and appropriately punish distracted driving. [Washington State currently has the following laws in statue.]
RCW 46.61.667: Using a wireless communications device while driving
RCW 46.61.668: Sending, reading, or writing a text message while driving
Work with the North American Federation of Temple Youth (NFTY) at the North American and international levels to educate drivers about the impact of distracted driving and encourage individuals to pledge not to use cell phones while driving.
Sandy Gatlin
The Sisterhood Board met October 14. They are planning a Community Chanukah Party. Be watching for details in next month's bulletin.
Books & Bagels was fun and informative. Thank you to our hosts, the Alperts, for the lovely refreshments. Some of the books discussed were:
Being Mortal

by Atul Gawande

The Nightingale

by Kristin Hannah

A Brief Stop on the Road from Auschwitz

by Goran Rosenberg

Clara's Kitchen

by Clara Cannucciaria

Color of Water

by James McBride
Books & Bagels is an annual event sponsored by Sisterhood.
Women of Reform Judaism – Did you know? Sandy Gatlin
The Torah: A Women's Commentary
"For generations, the task of interpreting the texts of Torah has been almost exclusively the province of men. In our generation, this has changed and the voices of women and their understandings of the Torah have enriched our people. This Commentary will be a valuable addition to every synagogue, Torah study group, and Jewish home." —Rabbi David Ellenson, Past President, Hebrew Union College – Jewish Institute of Religion (HUC-JIR)
WRJ commissioned the work of more than 100 of the world's leading Jewish female Bible scholars, rabbis, cantors, theologians, historians, philosophers, sociologists, poets, and archaeologists, whose collective efforts resulted in the first comprehensive commentary on the Five Books of Moses to be authored only by women. The Torah: A Women's Commentary was published in 2007 and includes individual Torah portions as well as the Hebrew and English translations, giving dimension to the women's voices in our tradition.
Under Editor Dr. Tamara Cohn Eskenazi's skillful leadership, this commentary provides insight and inspiration for all who study Torah: men and women, Jew and non-Jew. As Dr. Eskenazi has eloquently stated, "We want to bring the women of the Torah from the shadow into the limelight, from their silences into speech, from the margins to which they have often been relegated to the center of the page – for their sake, for our sake and for our children's sake."

Each Torah portion in The Torah: A Women's Commentary features:
A central commentary written by a biblical scholar.
A second, shorter commentary from another biblical scholar that compliments the primary interpretation.
A compendium of post-biblical interpretations highlighting issues related to women.
A contemporary commentary reflecting social, philosophical, and theological concerns that link the Torah portion to current issues.
Creative responses in the form of poems, prose, or modern midrash.
Free study guides for each parashah can be found at www.wrj.org
===========================================================
The Sisterhood Board met August 12 to discuss a variety of issues.
They have received the book, Shards of Light: Seattle's Jewish Family Service 1892-2012.
Copies can be borrowed from the Bet Chaverim Library collection.
A number of suggestions for programming were made about creative programs including potential speakers.
These will be narrowed down after the holidays. Board members all offered to provide items for the Rosh Hashanah onegs — including round challahs.
Please watch for announcements about programs. And remember to bring food for the Jewish Family Service food drive.
Also a reminder about getting Sisterhood's Sunshine Cards for birthdays, get well, and any other occasion!
Did you know this about Women of Reform Judaism?
Founded in 2009 by WRJ Board member Resa Davids, WRJ-Israel's initial goal was to ensure there would be a women's track of workshops at the international World Union for Progressive Judaism (WUPJ)
Convention in Jerusalem that year. At that time, 15 out of the 25 Israel Movement for Progressive Judaism (IMPJ) congregations had formal women's groups and, from those groups,
50 women attended the inaugural meeting. Later that year, at the WRJ 2009 Assembly in Toronto, Canada, each of these 15 Israeli women's groups was given a gavel and a charter as an official WRJ affiliates.
Today, WRJ-Israel has grown to include 27 WRJ-affiliated women's groups. Each of these groups has its own goals and runs its own programs in accordance with the WRJ-Israel Mission Statement.
Although WRJ-Israel affiliates differ culturally and structurally from their North American counterparts, they have the support of WRJ in their journey to build an Israeli Movement that promotes the roles of Israeli women in Reform/Progressive Judaism.
WRJ-Israel holds an annual national meeting and periodic programs in local communities.
"Some of our groups are already quite active, while some are still trying to establish themselves.
It is very important to state that we are not trying to imitate WRJ Sisterhoods.
We are culturally different. Our communities are not mirrors of North American Reform Congregations—we are building an Israeli Movement."
—WRJ-Israel Founder and WRJ Board, WRJ Pacific District Board member, Resa Davids
Carol Lym, Sandy Gatlin, Nancy Blase